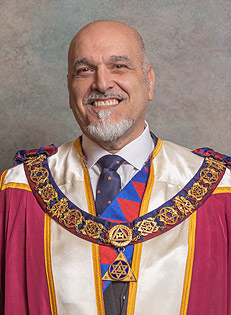 In my introduction I explained the importance of the Royal Arch to every Master Mason.

As a Master Mason you are urged to Discover More, Continue the Journey, Follow the Clues, Enjoy Companionship and Discover Answers.

If you have enjoyed the three Craft Degrees, then you will be pleased to know there is still more left to discover in the Royal Arch. You will not fail to be impressed by the splendour and drama on the ceremony of Exaltation when you join – and you will learn more about the story behind the rebuilding of Kind Solomon's Temple.

You will also have a fantastic and enjoyable time on your colourful journey of discovery – and make new friends and Companions whilst doing so.

As your journey unfolds you will start to understand Freemasonry in a whole new way – your understanding of the nature and duty of the 'builder' referred to at your Initiation (in the Craft) will be clarified, and you will begin to understand how to build the 'superstructure' that is 'perfect in all its parts'.

Where there are Lodges in the Craft, members of the Royal Arch meet in Chapters. Just like in the Craft, there are many different Royal Arch Chapters in Staffordshire, each with their own history and traditions, as well as many special interest Chapters.

You are eligible to join the Royal Arch four weeks after you have been made a 'Master Mason'. However, you are first encouraged to consolidate your learning in the Craft and should seek to join the Royal Arch at a time that is right for you.

I'm sure that you now have many questions. We can help you. Every Lodge has a Royal Arch Ambassador who is appointed by the Provincial Grand Master and will be identified in your lodge summons. The Provincial Membership Officer will also answer your questions and point you in the right direction.

If you would prefer to simply make a quick online enquiry, then click on the link 'Interested in Joining?' below and we will be in touch.

We look forward to welcoming you as a Companion into the Royal Arch in Staffordshire

Robin A. Stubbs
Grand Superintendent
Joining the Royal Arch

History of the Royal Arch in Staffordshire
It is quite possible that in the early days of freemasonry the Royal Arch ceremony was worked in the Craft Lodges of Staffordshire without a separate Royal Arch Chapter being constituted. In the rough draft Minute Book of St Martin's Lodge from 1807 to 1810, it was found that brethren were proposed in the Lodge for exaltation to the Royal Arch and that the Lodge originally 'worked the Royal Arch as an integral and essential portion of the 3rd Degree'.

In the late 18th and early 19th centuries there may have been many other Royal Arch Masons exalted into other Craft Lodges.

The first Wolverhampton Lodge was constituted on the 28th March 1732 and by 1768 there were four lodges in the town. A century later, in 1842, there were 13 Craft Lodges in Staffordshire; the oldest of which, still surviving today, was the Etruscan Lodge No 285 Stoke on Trent, founded in 1803, and the next St Martin's Lodge No 115 (now No 98) Burslem, founded in 1805 on a Warrant originally granted in 1764 for a lodge in Wolverhampton.

It was only after "The Act of Union" in 1817 that separate Royal Arch Chapters were established to undertake the exaltation ceremonies; although it is true to say that this directive was very slow at being implemented.
In 1833 there were only two duly constituted Royal Arch Chapters in Staffordshire; St Martin's Chapter No 115, Burslem and possibly, the Charity and Concord Chapter No 182, Longton, which was founded in 1813. The Chapter of Fortitude No 427, Stafford, was added to these two in 1834. Thereafter there was a steady increase in the number of official Royal Arch Chapters added to the list. These are indicated below :-

419
539
418
624
482
546
1060
726
456
662
1941

St Peter's
Vernon
Staffordshire Knot
Abbey
St James'
Etruscan
Marmion
Royal Chartley Chapter of Fortitude
Dove
Dartmouth
St Augustine's

1842
1852
1857
1864
1865
1873
1875
1881
1887
1895
1896

Over the next 120 years new Chapters continued to be formed throughout the Province of Staffordshire so much so that as we enter the 2020's the list has grown to 37 Chapters with over 1000 memberships.